We've been spending time in northeast Michigan on and off for the past month or so. In one particular location, I noticed more Monarch butterflies this year than in the past.
A couple of weeks ago there were at least a dozen Monarch adult females frantically flying around from plant to plant laying eggs on a colony of milkweed plants. That lasted for a couple of days and was still going on when we left for home.
We returned earlier this week expecting to find caterpillars all over the place. The plants were still there but there were no caterpillars to be found anywhere. The only difference was the plants had bloomed and the blossoms were quickly fading.
These are a different species of milkweed than we have at home. The purple flowers with their distinctive scent along with a purple mid-vein on the leaves, plus other traits, told us these were purple milkweed, Asclepias purpurascens. At our home in southeastern Michigan we have mostly common milkweed, Asclepias syriaca.
I'm not sure why no caterpillars developed on the purple milkweed plants. It could be that predators ate the eggs before they hatched or ate the small caterpillars just as they emerged from their eggs.
On the other hand, this past weekend in the Caseville area, our daughter Robin and her cousins saw tons of caterpillars on milkweeds. Each and every plant, even the yellowing ones, had at least two caterpillars, others had even more. They didn't know what species of milkweed those were since the plants hadn't started blossoming yet. Adult females were quite busy laying eggs there too.
With that many caterpillars you expect to see evidence of predators and they did. While admiring a caterpillar up close, out of nowhere a predatory wasp zoomed in and dive bombed it. The caterpillar fell from the plant and was writhing wildly on the ground. When the spasming ceased, the hikers returned him to his roost on the milkweed. The hikers didn't know it at the time, but the caterpillar was already doomed. The wasp had laid its eggs inside the caterpillar's body making a nursery for a new generation of wasps.
We did eventually find a caterpillar on the purple milkweeds in the northeast location. We found it in a most unlikely spot. While we were hiking through a dense, shady cedar swamp with ferns, mushrooms, and jack-in-the-pulpits we came across a clearing where some trees were knocked over during a storm.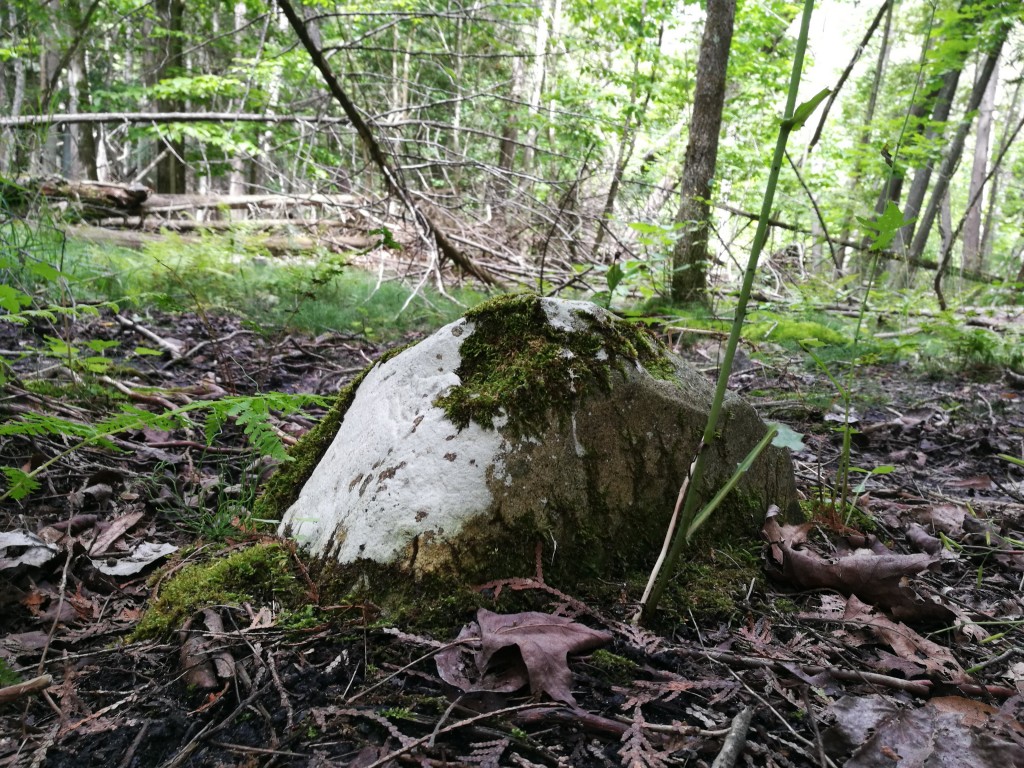 In the middle of that sunny clearing was a single purple milkweed plant that had one lonely monarch caterpillar that was nearly full grown.
 Deep in this seemingly inhospitable environment, it was no place for a butterfly. It's a wonder how the Mother Monarch found her way there at all.