This season's warm temperatures have caused our tomato plants to grow like "crazy". We have relatively high fertility in our garden beds and the tomatoes are regularly watered, hence all the growth.
All of these factors are setting us up for the potential of Blossom End Rot in our tomatoes.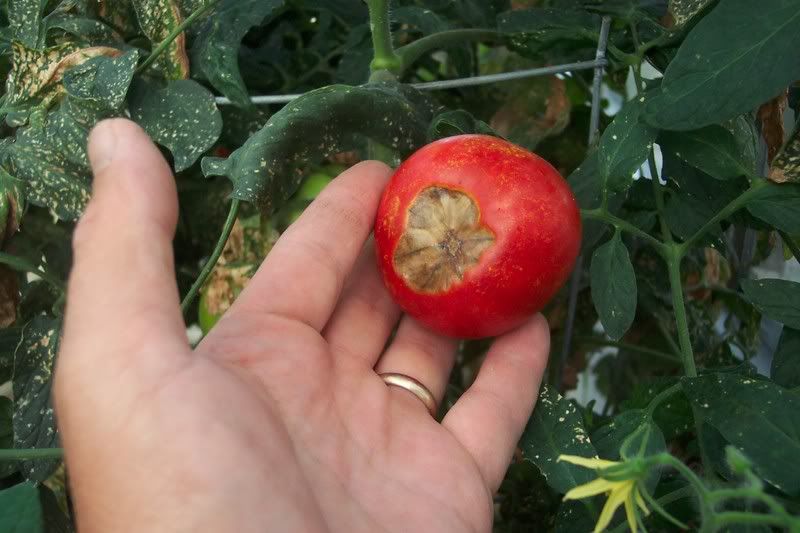 The rapid growth causes the plants to have difficulty in taking up calcium from the soil. The lack of calcium in the plant during the time the tomato's fruits are growing will cause Blossom End Rot.
It's pretty disappointing to have grown all those beautiful plants with all those tomatoes on them and then have them start to rot right on the vine.
Sometimes even an experienced tomato farmer can lose nearly all of his crop to this problem.
What we are doing right now, is spraying a soluble form of calcium right on the leaves to ensure the plants get some supplemental calcium. You can find these sprays in most any garden center. We have been spraying about once or twice a week.
Calcium imbalance can also be caused by:
Too much nitrogen in your garden soil (use low nitrogen fertilizer instead)
Soggy soil, which causes root stress (plant in a well drained area)
Cultivating too close to the plants, which destroys needed feeder roots
Sudden lack of water after a period of plentiful water (irrigate evenly, mulching helps too)
Low soil calcium levels occurring naturally (supplement your soil with lime,a common name for calcium, next fall)
Keep in mind that foliar sprays will not help Blossom End Rot once it starts.
Bob