Actually, it's Henry, Henry Kelsey Climbing Roses.
Every year, without fail, these roses have put on a great show, as you can see by this photo taken a couple of days ago:
These roses are part of the "Explorer Series" of climbing roses developed in Canada, I think.
Apparently, Henry Kelsey was a famous individual who explored Canada, I don't know the whole story.
The flowers are semi-double, deep red with yellow centers. They have a little fragrance, but not much.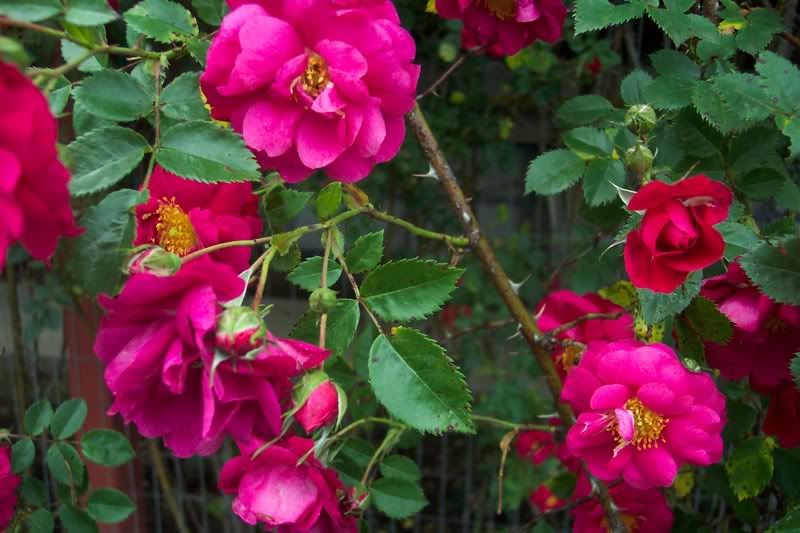 They are described as "continuous bloomers" in some catalogs. Ours, however, after this first flush of blossoms, re-blooms very little…just a blossom here and there.
They also are resistant to powdery mildew and seem to be able to handle light infections of black spot (a fungus that infects rose leaves). I hardly ever spray these roses for fungus… once, maybe twice a season.
The catalogs describe them as growing to 6′ wide and 10′ feet high. The width sounds about right, but I measured ours and they were over 14′ tall and drooping at the top.
I used to wrap these roses for winter protection, but since they have gotten so large, I just let the fend for themselves for the winter. Henry Kelseys are plenty hardy, they can be planted as far north as zone 4.
This variety of rose doesn't like a lot of pruning, so I tend to just let it go. I plan on doing a little pruning later on this fall or spring to stimulate some new growth which will help fill in the lower portion of the arbor.
We always de-head the roses after flowering, let me tell you that is a BIG job! We have to snip off each flower before it starts to form "hips" (small berry-like fruit). That is no easy task with the canes 14′ high and 50′ + feet of arbor! (the thorns are pretty picky too) Some folks will leave the hips on for the birds to eat. A lot of energy is expended by the plant in making all those hips, energy that may be used to produce more canes and flowers for next time.
I started these from tiny cuttings, not too much bigger than a pencil with a little bit of root on the end. Of course, I could have simply went to the nursery and bought them already growing in gallon pots. That would have saved me a season's worth of growing, but we had such a large space to fill and we saved a few bucks doing it that way. It was a whole lot of fun for me too!

This excessive heat we have been having will hurry the blossoming along, it won't be long until the roses are gone until next year.
Bob